Common Deck Problems and Resources for Building a Deck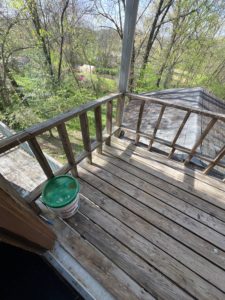 Here are some common mistakes people make when building their own deck:
Not obtaining the necessary permits: Depending on where you live, you may need to obtain permits for your deck project. Skipping this step can lead to fines, delays, or even having to tear down the deck.
Choosing the wrong materials: Choosing the wrong materials for your deck, such as untreated lumber or inadequate fasteners, can lead to safety hazards or premature decay of the deck.
Not following building codes: Building codes exist to ensure that decks are structurally sound and safe. Failing to follow these codes can lead to a deck that is unsafe or unstable.
Improperly spacing the deck boards: Deck boards need to be spaced properly to allow for drainage and to prevent warping. Improper spacing can cause the deck to rot or warp.
Not properly attaching the ledger board: The ledger board is the board that attaches the deck to the house. Improper attachment can cause the deck to collapse.
Not considering the weight capacity: Decks need to be designed to support the weight of the people and furniture that will be on it. Failing to consider weight capacity can lead to a deck that sags or collapses.
Not maintaining the deck: Proper maintenance is important to prevent decay, rot, and other damage to the deck. Neglecting maintenance can lead to costly repairs or even having to rebuild the deck entirely.
It's important to take the time to plan and build your deck properly to avoid these common mistakes and ensure that your deck is safe and functional for years to come.
Here are some resources that you may find helpful in building a deck:
Building a Deck: Expert Advice from Start to Finish (Taunton's Build Like a Pro) by Scott Schuttner – This book provides step-by-step instructions on how to build a deck, including planning, designing, and constructing.
Deck Plans – This website provides a variety of deck plans, along with material lists and instructions.
The Home Depot Deck Design & Planning Software – This online tool allows you to design and plan your deck, including materials and cost estimates.
DIY Network – This website has a section dedicated to deck building, which includes step-by-step instructions, videos, and tips.
This Old House – This website has a comprehensive guide to building a deck, including planning, design, construction, and maintenance.
YouTube – There are many YouTube channels that provide tutorials and tips for building a deck, including DIY Creators, Home RenoVision DIY, and The Handyman.
https://d3bfc4j9p6ef23.cloudfront.net/wp-content/uploads/sites/103/2022/02/24212710/logo-24.png
0
0
thihomeinspector
https://d3bfc4j9p6ef23.cloudfront.net/wp-content/uploads/sites/103/2022/02/24212710/logo-24.png
thihomeinspector
2023-04-07 03:09:57
2023-04-07 03:09:57
Common Deck Problems and Resources for Building a Deck